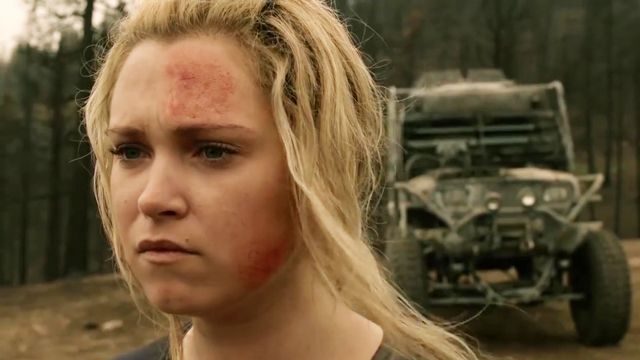 ¡Ya está aquí! Después de mucho tiempo de espera, el tráiler subtitulado de la quinta temporada de The 100.

Recordando en qué quedó la cuarta temporada de The 100...
Lo último que vimos en la cuarta temporada fue a Bellamy y Raven, al fin a salvo en el espacio, observando como la Tierra ardía en llamas, y pensando en Clarke, ya que gracias a ella se pudieron salvar.
La siguiente escena ocurre 6 años y 7 días después, y en ella vemos a Clarke, en la Tierra, rodeada de un hermoso paisaje verde, tratándose de comunicar por radio con Bellamy (Bob Morley).
Ahí nos enteramos que ha estado intentándolo día tras día, pero no ha recibido respuesta, ni de Bellamy y su grupo, ni de la gente del búnker. Desde hace un año la Tierra ya es habitable nuevamente, pero nadie ha bajado.
Clarke le dice a Bellamy, que le diga a Raven que apunte a la única mancha verde que vean, y que allí la encontrarán. Justo en ese momento una nave comienza a aterrizar. Clarke se emociona pensando que se trata de Bellamy, y va a despertar a Madi, una niña sangre nocturna que ha estado sobreviviendo con Clarke.
El problema es que la nave es demasiado grande, y al observarla con la mira del rifle se da cuenta que no es quien ella cree.
En la última escena de la temporada, Clarke le dice a Madi que oculte el vehículo y prepare las armas.
The 100 Temporada 5
En el nuevo tráiler de la quinta temporada, podemos ver a Clarke (Eliza Taylor) sobreviviendo en un comienzo sola, y luego acompañada de Madi (Lola Flanery), con quien forma un fuerte lazo.
La Tierra es habitable nuevamente, pero esta vez el tamaño se limita a ese punto verde que menciona Clarke, ya que al parecer todo el resto está en pésimas condiciones.

En el video podemos ver a los personajes que aterrizan en la misteriosa nave carcelaria. Este grupo está liderado por Charmaine Diyoza (interpretada por la actriz Ivana Milicevic), quien planea declarar una guerra y así apoderarse del valle.
The 100 Temporada 5 - Traíler Sub Español
También podemos ver cómo Raven, Bellamy, Murphy, Harper, Emori y Echo han sobrevivido estos seis años, gracias a la granja de algas de Monty.
Por otro lado, el grupo sobreviviente del búnker, parece no tener una estadía muy pacífica, ya que vemos mucha violencia, con escenas de Octavia (Marie Avgeropoulos) luchando por ser una líder y unir al grupo.

The 100 estrena su quinta temporada el Martes 24 de Abril de 2018 en The CW.