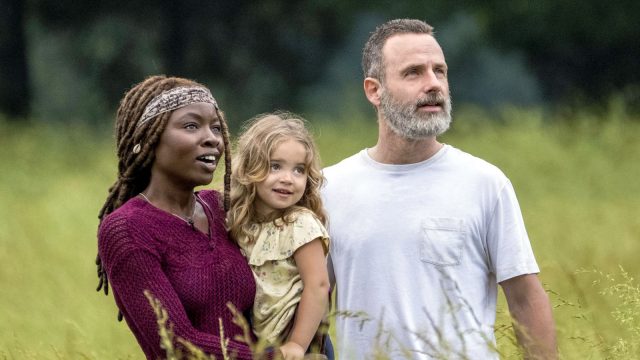 Ya puedes ver online los primeros minutos de The Walking Dead 9x01 "A New Beginning", el episodio que se estrena el domingo 7 de Octubre en AMC Estados Unidos y el Lunes 8 de Octubre en canal FOX.

La primera escena se centra en Alexandria, en donde podemos ver que han reconstruido, tienen plantaciones de vegetales e incluso paneles solares.
Rick sale de su casa y ve como Michonne acompaña a Judith mientras dibuja. Uno de los dibujos es Judith junto a Carl.
The Walking Dead S09E01 "A New Beginning"
Luego Rick, Michonne y Judith salen a pasear por una pradera, en donde una bandada de pájaros vuela formando figuras.
En la siguiente escena vemos el Santuario. Eugene, Rosita y Daryl se encuentran allí.
Tienen plantaciones de choclo, pero los cuervos se los quieren comer. Incluso intentan ahuyentarlos con un caminante amarrado, a modo de estapantapájaros, pero Daryl lo mata.
Tara, Jesús, Jerry y Aaron se encuentran en el exterior.
En la última escena de este adelanto del capítulo, vemos a Michonne y Rick andando a caballo en las calles de Washington (como en las fotos del set que pudimos ver hace un tiempo).
Ahí vemos que se les unen los integrantes de las diferentes comunidades, como Carol, Maggie, Jadis (Anne), Alden, Gabriel, Enid, Cyndie (de Oceanside).