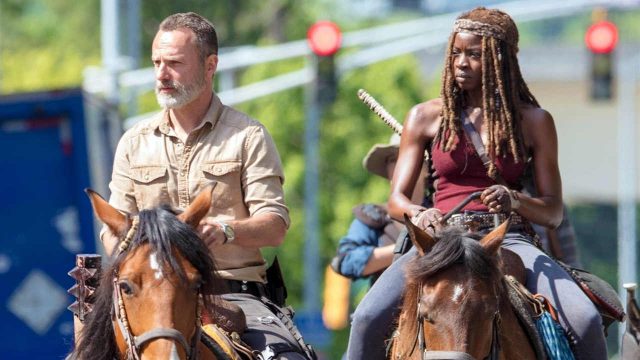 ¡Spoiler! Ya tenemos las primeras imágenes de las grabaciones del primer episodio de la novena temporada de The Walking Dead 9x01, en donde gran parte del elenco se trasladó a la ciudad.

Esta semana se dio inicio al rodaje de la novena temporada de The Walking Dead, y hoy 3 de Mayo las grabaciones se llevaron a cabo en plena ciudad de Atlanta, tal como ocurriera en la primera temporada de la serie.
Otra característica que nos hace recordar a la primera temporada, es que vemos a Rick (Andrew Lincoln) montando a caballo por las calles de la ciudad, pero esta vez en compañía de Michonne (Danai Gurira) y el resto del grupo.
En las grabaciones de hoy se dejaron ver bastantes personajes de las diversas comunidades:
Carol (Melissa McBride), Ezekiel (Khary Payton), Aaron (Ross Marquand), Enid (Katelyn Nacon), Siddiq (Avi Nash), Maggie (Lauren Cohan), Alden (Callan McAuliffe), padre Gabriel (Seth Gilliam), Tara (Alanna Masterson), Jesus (Tom Payne), Cyndie (Sydney Park), Jadis (Pollyanna McIntosh), Rick Grimes (Andrew Lincoln) y Michonne (Danai Gurira).