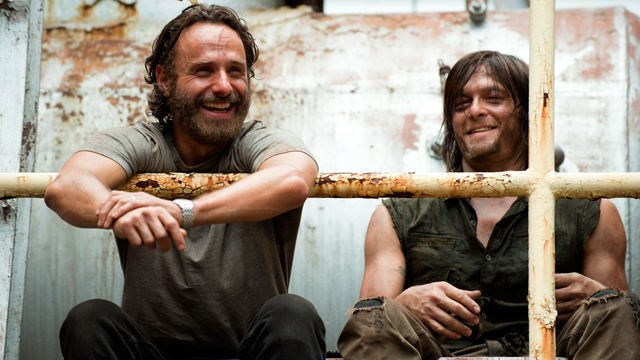 Por si aún no los ves, ya está el video completo con los bloopers de la quinta y sexta temporada de The Walking Dead, el cual se mostró a los asistentes a la premiere de la sexta temporada en Madison Square Garden, Nueva York.

Los bloopers (o chascarros) son esas situaciones divertidas que les ocurren en medio de las grabaciones, lo que da origen a 'tomas falsas' que generalmente luego publican en los DVD, o en este caso en eventos especiales como fue en la Comic-Con de San Diego y en la Fan Premiere en Madison Square Garden.
En el video podemos ver algunos chascarros protagonizados por Andrew Lincoln (Rick), Norman Reedus (Daryl), Melissa McBride (Carol), Steven Yeun (Glenn), Chad Coleman (Tyreese), Michael Cudlitz (Abraham) y más:
Por ahora es lo único que hay, pero ojalá AMC los publique en buena calidad.
Si quieres ver qué más sucedió en la premiere de The Walking Dead en Nueva York, puedes pasar a ver un resumen con muchos videos del evento.