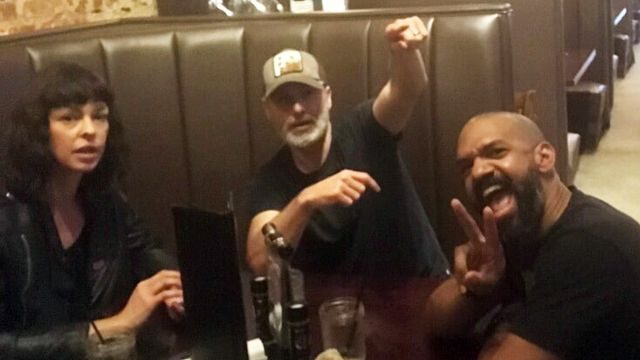 Desde hace días que parte del elenco de The Walking Dead se encuentra en Georgia, Estados Unidos preparándose para la novena temporada de la serie, y hoy 30 de Abril, ha sido el primer día oficial del rodaje, de acuerdo a la cuenta oficial de la serie en Twitter.

En la foto compartida podemos ver que el primer episodio de la temporada 9 será dirigido por Greg Nicotero, pero si nos fijamos un poco más en la imagen, podemos obtener más detalles.
Season 9, Day 1. #TWD #TWDFamily pic.twitter.com/c42lyqjrPv

— The Walking Dead AMC (@WalkingDead_AMC) 30 de abril de 2018

En el fondo de la imagen se puede ver una torre de agua, lo que indicaría que en Hilltop han llevado a cabo algunas mejoras, seguramente gracias a los apuntes que les dejó Georgie, y que les estaría permitiendo vivir de mejor forma, además sin la amenaza constante de Negan y los Salvadores.
La nueva construcción confirma también que veremos un salto temporal en la serie, de modo que la novena temporada estará ambientada bastante tiempo después de haber vencido a Negan y los Salvadores.
El elenco se deja ver en Senoia
Durante esta semana parte del elenco se dejó ver por los alrededores de Senoia, donde grabarán la nueva temporada, y estas son algunas imágenes: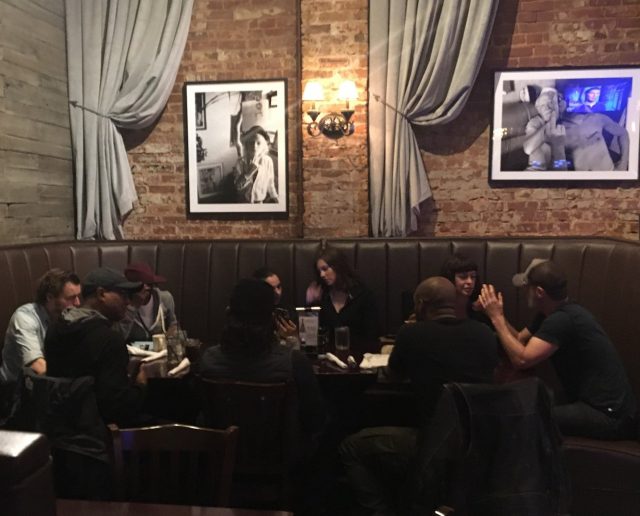 En la foto podemos ver a Callan McAuliffe (Alden), Seth Gilliam (Padre Gabriel), Danai Gurira (Michonne), Alanna Masterson (Tara), Lauren Cohan (Maggie), Pollyanna McIntosh (Jadis), Andrew Lincoln (Rick Grimes), Khary Payton (Ezekiel) y Norman Reedus (Daryl Dixon) de visita en el restaurante Nic & Norman, que les pertenece a Greg Nicotero y Norman Reedus.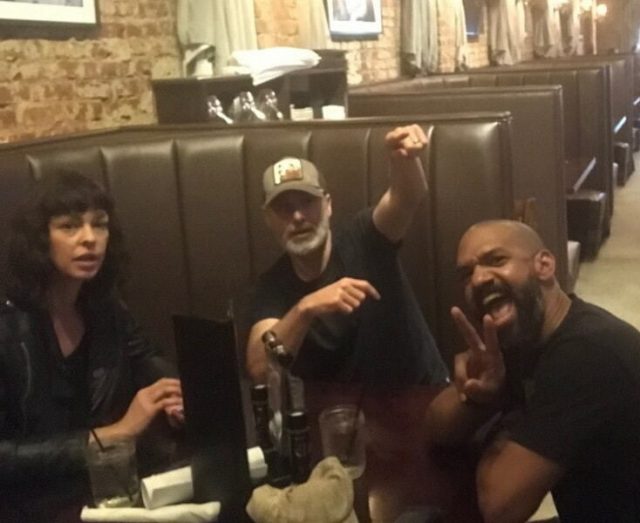 Acá una foto más cerca de Pollyanna McIntosh (Jadis), Andrew Lincoln (Rick Grimes) quien se ha cortado el pelo, y Khary Payton sin la característica peluca de Ezekiel.
A medida que vayan avanzando los días se debería ir incorporando el resto del elenco a la grabaciones de la novena temporada, y ojalá podamos obtener algunas fotos.
Si todo sigue como años anteriores, estaríamos viendo el estreno de la novena temporada de The Walking Dead en el mes de Octubre (2018)