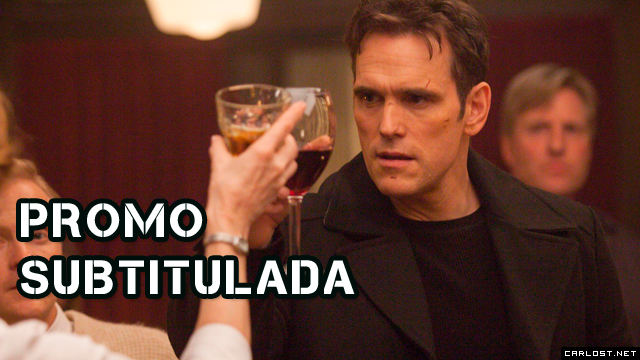 Promo subtitulada en español y sinopsis del próximo capítulo de Wayward Pines 1x04 "One of Our Senior Realtors Has Chosen to Retire", que se estrena el Jueves 4 de Junio en FOX.

Wayward Pines S01E04 "One of Our Senior Realtors Has Chosen to Retire"
("Uno de nuestros mayores agentes inmobiliarios ha decidido retirarse")
Sinopsis: Luego del encuentro de los Burkes con el Sheriff Pope, regresan al pueblo para descubrie que Ethan ha sido nombrado como el nuevo líder de Wayward Pines. Con su nuevo rol, la enfermera Pam le dice a Ethan que debe hacer justicia con Peter McCall (actor invitado Justin Kirk), un "traidor" que pintó un graffiti en la calle principal del pueblo.
Mientras tanto, Ben asiste a su primer día de escuela en la Academia Wayward Pines, donde recibe clases particulares de la profesora Megan Fisher (actriz invitada Hope Davis), y Theresa recibe una oferta de empleo como agente de bienes raíces.
Elenco: Matt Dillon como Ethan Burke; Melissa Leo como la Enfermera Pam; Carla Gugino como Kate Hewson Ballinger; Toby Jones como el Dr. Jenkins; Terrence Howard como el Sheriff Pope; Juliette Lewis como Beverly; Shannyn Sossamon como Theresa Burke; Tim Griffin como Adam Hassler; Charlie Tahan como Ben Burke; Reed Diamond como Harold Ballinger.
Elenco invitado: Chad Krowchuk como Tim Bell; Justin Kirk como Peter McCall; Sarah Jeffery como Amy; Barclay Hope como Brad Fisher; Hope Davis como Megan Fisher; Grayson Gabriel como Toby Wilson; Will Erichson como Abby.