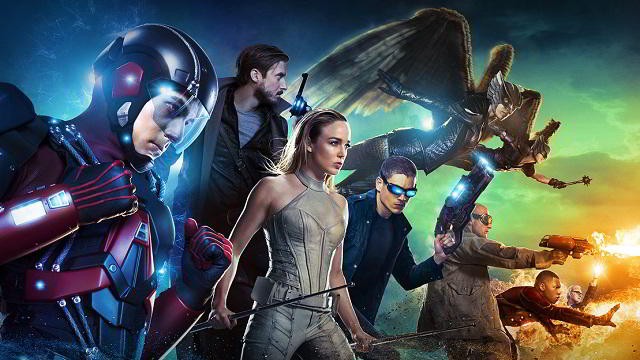 Este Jueves 21 de Enero se estrena la nueva serie de CW, "Legends of Tomorrow", el spin-off de Arrow y The Flash y aquí puedes ver de qué tratará y algunas promos de adelanto.

La historia nos lleva al año 2166, en donde el villano inmortal Vandal Savage (Casper Crump) está al borde de su victoria final – caos total y la destrucción de la humanidad. Mientras el mundo se desmorona, el Maestro del Tiempo Rip Hunter (Arthur Darvill) se hace cargo del problema, y viaja 150 años al pasado, para reunir cuidadosamente un equipo de héroes y villanos para detenerlo.
Tráiler de Legends of Tomorrow
Hunter ha elegido lo que pareciera ser un disparejo grupo conformado por:
● Ray Palmer / Atom (Brandon Routh) billonario e inventor, que ha creado un traje que al usarlo tiene la habilidad de convertirlo en miniatura. A Ray lo conocemos de la serie Arrow, en donde solía ser el CEO de Palmer Technologies.
● Sara Lance / White Canary (Caity Lotz) una asesina entrenada que en Arrow es la hermana de Laurel, y el antiguo amor de Oliver.
● Profesor Martin Stein (Victor Garber) y Jefferson "Jax" Jackson (Franz Drameh), que juntos pueden adoptar la forma del meta-humano Firestorm, cuya historia vimos en la segunda temporada de The Flash.
● Leonard Snart / Capitán Cold (Wentworth Miller) y Mick Rory / Heat Wave (Dominic Purcell), dos criminales con gran experiencia, y que los hemos visto hacer de las suyas en The Flash.
● Kendra Saunders / Hawkgirl (Ciara Renée) y Carter Hall / Hawkman (Falk Hentschel), a quienes pudimos ver en acción en los capítulos crossover de Arrow y The Flash (4x08 y 2x08 respectivamente).
Juntos deberán intentar detener a uno de los villanos más formidables de todos los tiempos, mientras aprenden no sólo cómo ser un equipo, sino también héroes.
Promo de Legends of Tomorrow (Jueves en The CW)
El capítulo "Piloto" está dividido en dos partes: S01E01 "Piloto" Parte 1 que se estrenará el Jueves 21 de Enero y S01E02 "Piloto" Parte 2, que se estrenará el Jueves 28 de Enero de 2016 en The CW (Estados Unidos)
Promo final de Legends of Tomorrow (Estreno hoy)
El piloto está dirigido por Glen Winter, y escrito por Marc Guggenheim, Phil Klemmer, Greg Berlanti & Andrew Kreisberg.
Como la serie es spin-off de Arrow y The Flash habrán varias apariciones especiales, entre ellas Stephen Amell como Oliver Queen/Green Arrow, Katie Cassidy como Laurel Lance/Black Canary, Grant Gustin como Barry Allen/Flash, Carlos Valdés como Cisco Ramón y Neal McDonough como Damien Darhk.
La serie se estrena este 21 de Enero en The CW (Estados Unidos), mientras que en Latinoamérica la podremos ver a través de Warner Channel a contar del 18 de Febrero de 2016.