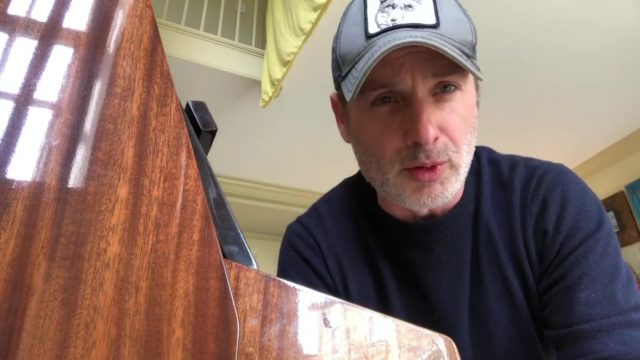 Cantando y tocando piano, Andrew Lincoln (Rick Grimes) le regala una canción a Danai Gurira (Michonne), su compañera de elenco por varios años en The Walking Dead.
El episodio de esta semana de The Walking Dead estuvo completamente centrado en el personaje de Michonne (interpretado por Danai Gurira), ya que se trataba del último episodio en el que la veríamos.
El personaje de Michonne hizo su primera aparición al final de la segunda temporada, pero sin revelar el rostro de la actriz que lo interpretaría, hasta la tercera temporada.
Después de varios años interpretando a Michonne, Danai Gurira deja la serie, en donde hizo muy buenos lazos de amistad con sus compañeros.

Uno de ellos es Andrew Lincoln, con quien formaban la dupla Richonne (Rick + Michonne), y quien ha querido dedicarle una serenata para recordar algunos momentos que han vivido juntos en su paso por The Walking Dead.
Canción de Andrew Lincoln para Danai Gurira
Danai compartió el video en su cuenta de Instagram con el siguiente mensaje:
"Una oda de Andy -- Esto significa mucho. Me hizo reír y llorar. ¡Muchas gracias Andy! (¡Gran voz, y habilidades con el piano! ¿Hay algo que este hombre no pueda hacer?)"
"Eres uno de los seres humanos más increíbles del planeta. Siempre apreciaré el viaje contigo y con toda la #TWDFamily"
Andrew siempre ha sido muy atento con sus compañeros de elenco. A Chandler Riggs, quien era su hijo Carl Grimes en la serie, también le dedicó una canción al ritmo de Havana de Camila Cabello.