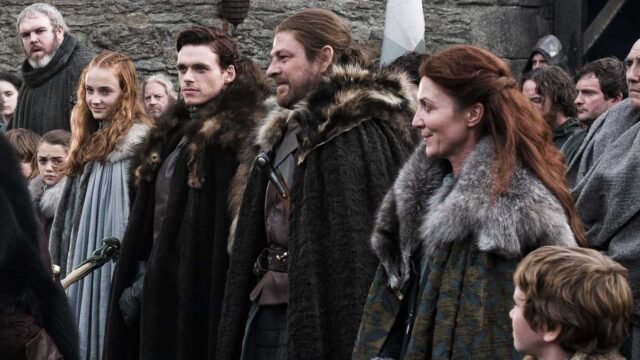 La exitosa serie de HBO, Game of Thrones (Juego de Tronos) se emitirá por primera vez en las pantallas del canal TNT Series.
TNT Series revive la primera y segunda temporada de Game of Thrones, para celebrar los 10 años que cumple la serie desde su fecha de estreno en televisión, que originalmente fue el 17 de abril de 2011 en HBO.
A partir del lunes 5 de abril, el canal TNT Series presenta el Especial 10 Años de Game of Thrones, en donde emitirá los episodios de la primera y segunda temporada de la serie. La cita es de lunes a jueves, a las 22.30 (COL) / 23.30 (ARG / CHI / MEX) horas.
Y para recordar los inicio de Game of Thrones, les comparto los tráiler oficiales de la primera y segunda temporada de la serie, que el canal oficial en Youtube ha vuelto a publicar esta semana..
Temporada 1 (Tráiler)
Temporada 2 (Tráiler)
Las dos primeras temporadas de Game of Thrones están protagonizadas por Peter Dinklage (Tyron Lannister), Emilia Clarke (Daenerys Targaryen), Lena Headey (Cersei Lannister), Kit Harington (Jon Snow), Sean Bean (Ned Stark), Nikolaj Coster-Waldau (Jaime Lannister), Maisie Williams (Arya Stark), Sophie Turner (Sansa Stark), Mark Addy (Robert Baratheon), Richard Madden (Robb Stark), Stephen Dillane (Stannis Baratheon), Harry Lloyd (Viserys Targaryen), Michelle Fairley (Catelyn Stark), Jack Gleeson (Joffrey Baratheon), Charles Dance (Tywin Lannister), Aidan Gillen (Petyr Baelish) y Conleth Hill (Lord Varys).

Game of Thrones fue creada por David Benioff y D.B. Weiss quienes también son productores ejecutivos.
Durante este mes de aniversario de la serie, el canal HBO también tendrá una programación especial.