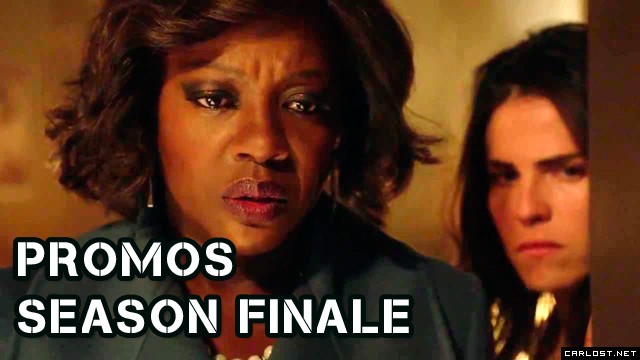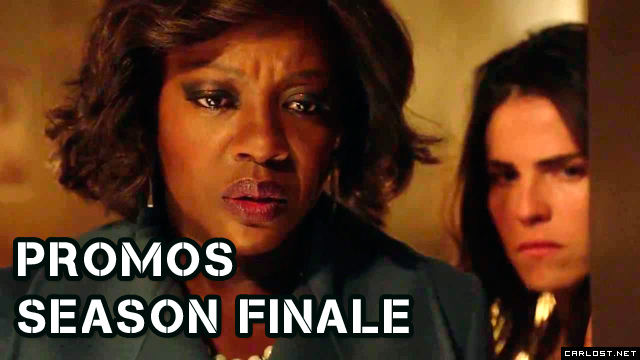 Este Jueves 26 de Febrero llega a su fin la primera temporada de How to Get Away With Murder en un doble capítulo: 1x14 "The Night Lila Died" + 1x15 "It's All My Fault". A continuación las promos y sinopsis.

How To get Away With Murder S01E14 "The Night Lila Died"
Sinopsis: En flashbacks, comenzamos a juntar las piezas acerca de lo que realmente pasó la noche del asesinato de Lila. En el presente, Annalise se reune con un sacerdote acusado de asesinar a otro sacerdote. Mientras tanto, Connor y Oliver llevan las cosas a un nuevo nivel en su relación, y Wes y Rebecca continuán sospechando el uno del otro.
How To get Away With Murder S01E15 "It's All My Fault"
Wes, Connor, Michaela y Laurel podrían estar en problema demasiado grande como para que Annalise los salve, y la impactante verdad acerca del asesinato de Lila es finalmente revelado.
Elenco: Viola Davis como Profesora Annalise Keating, Billy Brown como Detective Nate Lahey, Alfred Enoch como Wes Gibbins, Jack Falahee como Connor Walsh, Katie Findlay como Rebecca Sutter, Aja Naomi King como Michaela Pratt, Matt McGorry como Asher Millstone, Karla Souza como Laurel Castillo, Charlie Weber como Frank Delfino and Liza Weil como Bonnie Winterbottom.
En este final de temporada de 2 horas finalmente sabremos qué le pasó a Lila. ¿Sam es inocente? ¿Qué estará ocultando Rebecca? ¿Qué le pasó a su ex vecino que ahora está internado?