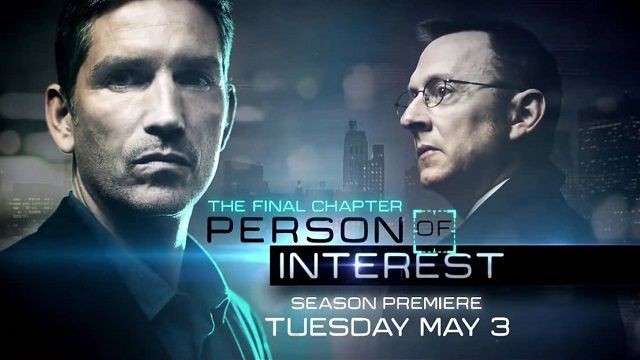 Tráiler de la quinta temporada de Person of Interest, la cual será la última temporada de la serie, y se estrenará el 3 de Mayo de 2016 en CBS.

Luego de que CBS decidiera no renovar la serie, Person of Interest estrenará su quinta y última temporada el Martes 3 de Mayo de 2016, con el episodio 5x01 "B.S.O.D.," en el que Reese y Finch (interpretados por Jim Caviezel y Michael Emerson) intentan rescatar el código fuente de La Máquina antes de que se deteriore a un unto en el que sea irreparable, mientras que Root (Amy Acker) lucha por su vida contra un ataque de agentes de Samaritan, y Fusco (Kevin Chapman) se enfrenta a difíciles preguntas tras la muerte de Dominic y Elias.
Promo de la temporada final de Person of Interest
Tráiler de la temporada final de Person of Interest
La historia continuará el Lunes 9 de Mayo con el capítulo 5x02 "SNAFU," en donde una dañada Máquina, dejará a Finch y Fusco con una docena de números de personas que no están involucradas en crímenes, mientras que también bloqueará a Finch y Root, luego de identificarlos como amenazas.
La quinta temporada continuará exactamente donde quedamos, es decir, luego de que Finch rescatara a La Máquina colocándola dentro de un maletín.
Acá puedes ver más detalles de esta nueva temporada y la curiosa modalidad que tendrá, estrenando dos capítulos por semana.