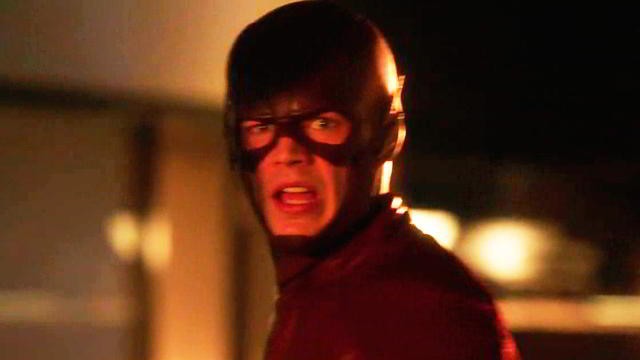 ¡Spoiler! Una nueva promo del próximo capítulo de The Flash 2x11 "The Reverse-Flash Returns", revela un decisivo momento para un personaje.

A lo largo del capítulo 2x10, vimos como Barry lidiaba con las dudas de si contarle o no a Patty acerca de su identidad secreta.
Y cuando estaba a punto de contarle fue interrumpido por el villano del capítulo -The Turtle-, que finalmente causó que Patty se enojara con Barry.
Además, Patty recibió una carta de la Universidad de Midway City, por lo que finalmente decide romper con Barry y marcharse de Star City para seguir su sueño y estudiar lo que siempre quiso: ciencia forense.
Bueno, resulta que la promo australiana del próximo capitulo de The Flash, no se centra en el Flash-Reverso como las otras promos (que puedes ver acá), sino que en la relación entre Barry y Patty.
Al principio de la promo no logro entender bien lo que habla Joe con Patty (pueden dejar un comentario si alguien lo entendió), sin embargo más tarde Patty encara a Barry para que le diga toda la verdad y admita que es Flash.
"Hay muchas razonas por las que corremos. Es para evitar lo que tenemos enfrente." narra Barry en la promo.
"Sólo dime la verdad ahora. Sé honesto conmigo. Admite que eres Flash y me quedaré." le dice Patty a Barry.
¿Le revelará Barry a Patty que él es Flash?
Al parecer no, ya que de ser así Patty se quedaría en Central City, sin embargo Shantel VanSanten, la actriz que interpreta a Patty Spivot en la serie, no ha sido vista en el set de The Flash desde hace un tiempo, y además forma parte del piloto "Shooter" del canal USA Network, en donde comparte con el actor Ryan Phillippe, ya que sus personajes son marido y mujer.
Habrá que esperar a que se estrene el capítulo para descubrir qué pasará realmente con la relación entre Barry y Patty, y si lograrán salvar la relación, seguirán caminos separados o peor aún, las pesadillas de Barry se cumplirán.