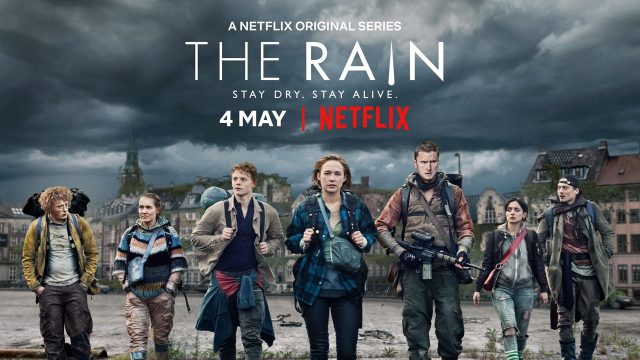 Una nueva serie titulada "The Rain" se estrena en Netflix este 4 de mayo, y acá te cuento de qué trata, y por qué te podría gustar. Además puedes ver los tráiler subtitulados, póster e imágenes.

Siguiendo con las series internacionales, Netflix apuesta esta vez por "The Rain", una serie danesa de suspenso, ambientada en un mundo devastado luego de que un virus se propagara a través de la lluvia.
¿Por qué te podría gustar The Rain?
Si te gusta The 100, Dark o Stranger Things, esta serie de seguro te enganchará.
Está ambientada en un mundo post-apocalíptico
El enemigo más peligroso es la naturaleza
Está cargada de suspenso y terror psicológico
Los personajes son víctimas de su pasado.
"Evita la lluvia, evita la muerte"
Seis años después de que el brutal virus acabara con casi toda la población de Escandinavia, dos hermanos, Simone y Rasmus, salen de un búnker subterráneo y se embarcan en la peligrosa búsqueda de su padre, que podría tener la cura para una pandemia.
Simone y Rasmus, pronto se unen a un grupo de otros jóvenes supervivientes y juntos se embarcan en una aventura llena de peligros a través de la abandonada Escandinavia, en busca de cualquier señal de vida.
The Rain se estrena este viernes 4 de Mayo en Netflix, y consta de 8 episodios.
Pósters de The Rain
The Rain fue creada por Jannik Tai Mosholt , Esben Toft Jacobsen y Christian Potalivo.
Elenco: Iben Hjejle (Ellen), Alba August (Simone), Mikkel Boe Følsgaard (Martin), Lucas Lynggaard Tønnesen (Rasmus), Lars Simonsen (Frederik), Angela Bundalovic (Beatrice), Sonny Lindberg (Jean), Jessica Dinnage (Lea), Lukas Løkken (Patrick) y Johannes Kuhnke (Sten).
Fotos promocionales de The Rain (2018)