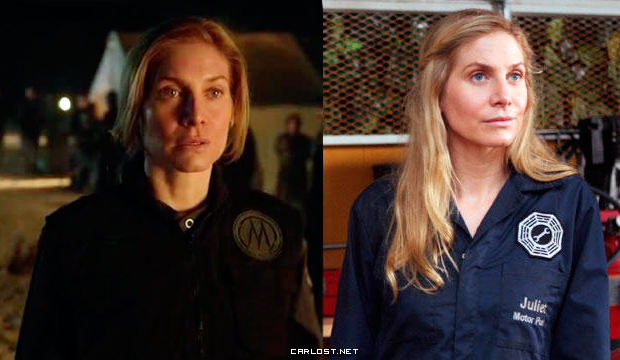 Siendo LOST una de mis series favoritas, es inevitable al ver otras series, encontrar ciertos parecidos o guiños.
Esto me pasó con el capítulo de esta semana de Revolution, el 1x18 "Clue", ya que hubo varias escenas que me recordaron a LOST, algunas bastante evidentes y otras tal vez un poco rebuscadas de mi parte.
Para compartir estos parecidos con ustedes, he juntado en imágenes las escenas de LOST vs Revolution.

AVISO: Este artículo contiene imágenes del capítulo 1x18 "Clue" y 1x19 "Children of Men" de Revolution, por lo que si no has visto la serie y no quieres saber que pasará, aún estás a tiempo de detenerte.
En LOST 3x01 "A Tale of Two Cities", Ben Linus tiene de prisionera a Kate, y le envía un vestido para que se reúna con él, y en el pasado episodio de Revolution vemos como Monroe (el malo de la serie) tiene a Nora de prisionera, y le envía un vestido blanco para que se reúnan.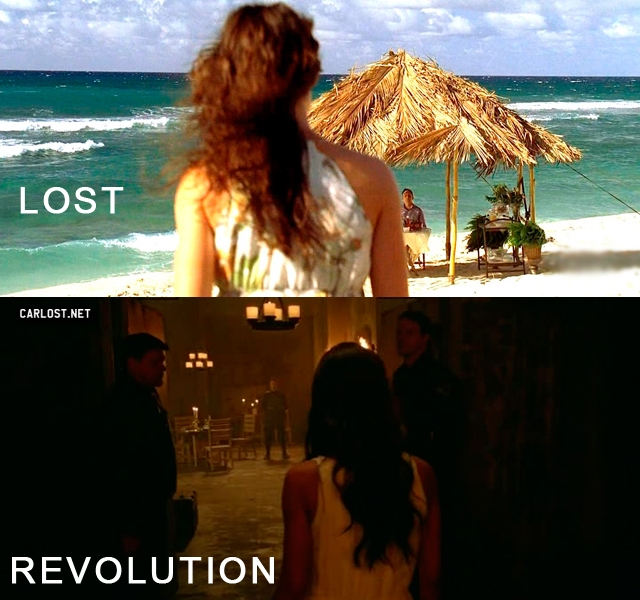 En LOST, Kate se pone su nuevo vestido y se reúne con Ben Linus, quien la espera con una mesa con varias cosas para comer, mientras que en Revolution, Nora se reúne con Monroe quien la espera con una cena.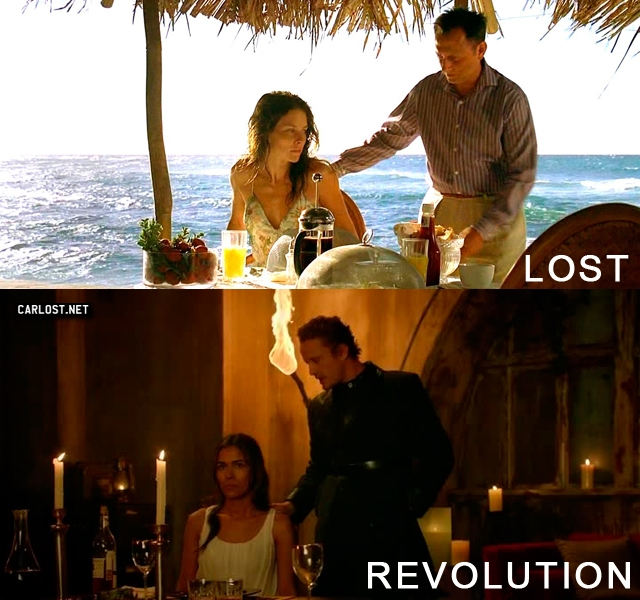 En LOST tenemos la estación Dharma 'La Tempestad, en donde se producía un gas tóxico mortal.
En Revolution, Monroe finalmente llega a 'La Torre' y nos damos cuenta que en su parte exterior es bastante parecida a la estación Dharma.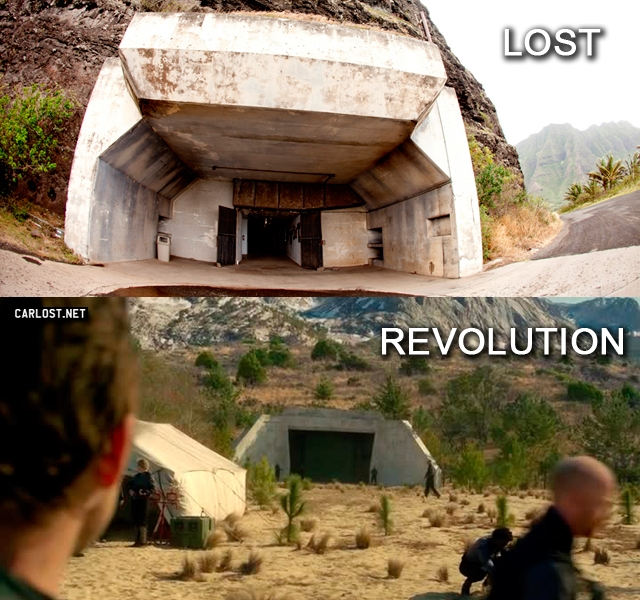 En LOST vemos a Elizabeth Mitchell como Juliet con el traje de mecánica con el logo Dharma en él.
En Revolution vemos a Elizabeth Mitchell como Rachel con un traje con el logo de la República de Monroe.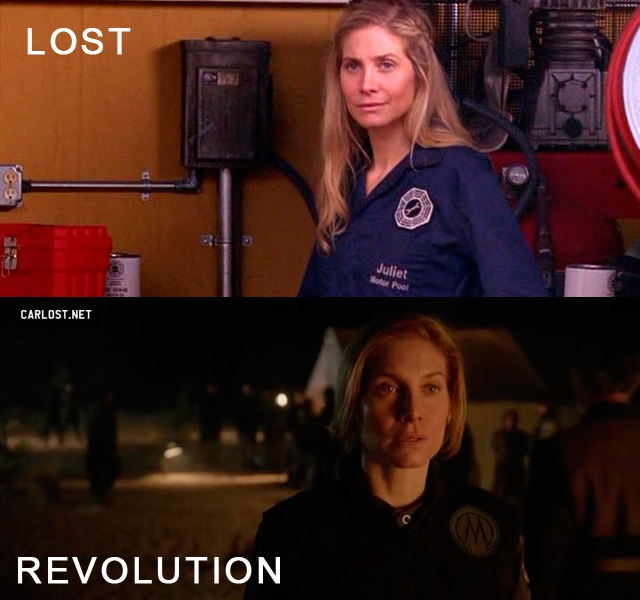 En LOST teníamos a Los Otros que vigilaban todo lo que sucedía a través de sus cámaras de vigilancia.
En el pasado capitulo de Revolution vemos a las personas al interior de 'La Torre' vigilar a través de las cámaras de seguridad.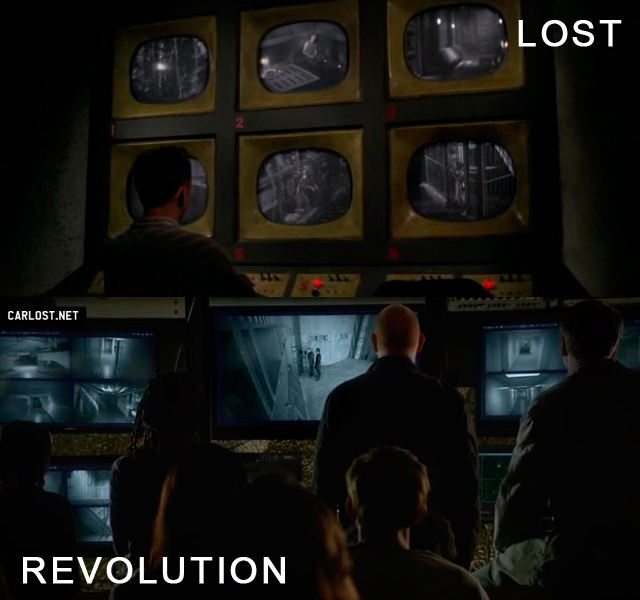 Una de las escenas más tristes en LOST fue cuando en el final de la quinta temporada, Elizabeth Mitchell interpretando a Juliet se encuentra acostada al lado de la bomba y finalmente la detona.
En Revolution 1x18 vemos a Elizabeth Mitchell interpretando a Rachel Matheson, que visita a Monroe con una granada en la mano, y en la promo del 1x19 la vemos en el suelo y luego de esto una gran explosión.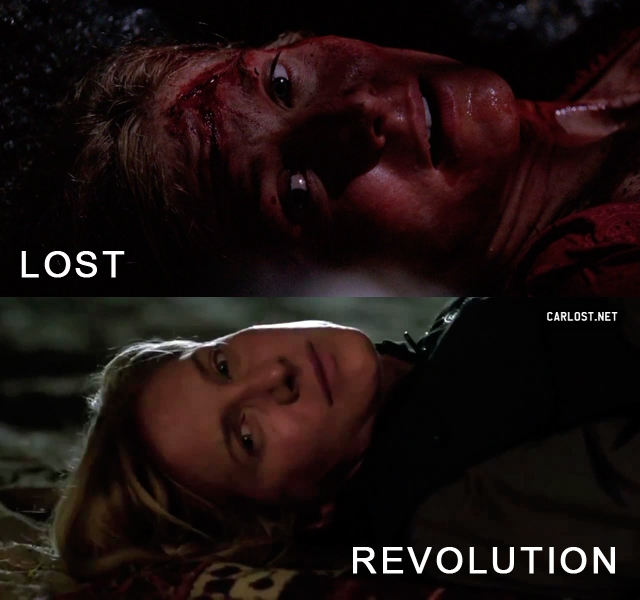 Yo me centré en este capitulo en específico y en las escenas más parecidas, pero por supuesto que hay muchas más, así que te invito a escribir en los comentarios qué otras escenas de Revolution te han recordado a LOST.