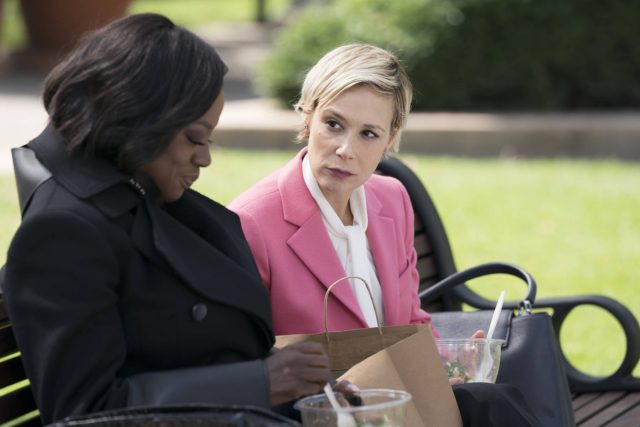 Ya puedes ver online la promo subtitulada, las fotos promocionales + BTS, y la sinopsis de How to Get Away With Murder 5x04 "It's Her Kid", que se estrena el jueves 18 de Octubre en ABC.

HTGAWM 5x04 "It's Her Kid" (Es su hijo)
Sinopsis: Annalise y Nate buscan que el padre de Nate se realice una evaluación psicológica, para poder retirar su caso por asesinato bajo una declaración de locura.
Mientras tanto, Michaela trabaja para convencer a Tegan de darle una oportunidad para volver a ganar su confianza, y Bonnie recibe una oferta que reflexiona.
How to Get Away With Murder 5x04 Promo
En la promo vemos a Gabriel hablando con Annalise, acerca de que su intención es destruir el sistema, pero Annalise le dice que ella es la que está haciendo eso.
Oliver encara a Frank, diciéndole que sabe que cuando le preguntó acerca de cómo intervenir un teléfono celular con tapa, se refería a Gabriel Maddox, pero Frank se hace el desentendido.
Nate habla con Annalise, y le dice que Bonnie tiene que saber que su hijo está vivo.
Annalise le dice que tuvo el bebé cuando tenía 15 años, y que su padre había dicho que nació muerto. Nate insiste en que le tendrá que decir...
Luego de esto vemos varias escenas de Nate llorando, Michaella mirando a Bonnie en la boda, luego de que no logran encontrar a Oliver. Connor tiene su cara golpeada y se acerca a hablar con Annalise, para finalizar con una escena de Annalise lamentándose en el suelo.
Fotos promocionales de HTGAWM 5x04
Behind The Scenes
Fotos por Mitch Haaseth & Randy Holmes / ABC
How to Get Away with Murder está protagonizado por Viola Davis como la Profesora Annalise Keating, Billy Brown como el Detective Nate Lahey, Jack Falahee como Connor Walsh, Aja Naomi King como Michaela Pratt, Matt McGorry como Asher Millstone, Karla Souza como Laurel Castillo, Charlie Weber como Frank Delfino, Liza Weil como Bonnie Winterbottom, Conrad Ricamora como Oliver Hampton, Rome Flynn como Gabriel Maddox, Amirah Vann como Tegan Price y Timothy Hutton como Emmett Crawford.