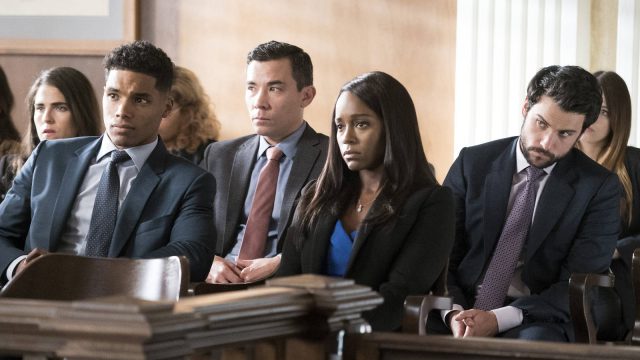 Ya puedes ver online la promo subtitulada, las fotos promocionales y la sinopsis de How to Get Away With Murder 5x07 " I Got Played" (Fui engañado), que se estrena el jueves 8 de noviembre en ABC.

HTGAWM 5x07 " I Got Played"
Sinopsis: Connor y Oliver intentan asegurar una iglesia para su boda, y así darle en el gusto a sus madres.
Mientras tanto, Annalise y Nate continúan buscando justicia, frente a los interminables obstáculos y graves circunstancias. Annalise comienza a dudas de la dedicación de la gobernadora a su causa.
How to Get Away With Murder 5x07 Promo (Subtítulos en español)
Fotos promocionales de HTGAWM 5x07
Fotos por Kelsey McNeal / ABC
How to Get Away with Murder está protagonizado por Viola Davis como la Profesora Annalise Keating, Billy Brown como el Detective Nate Lahey, Jack Falahee como Connor Walsh, Aja Naomi King como Michaela Pratt, Matt McGorry como Asher Millstone, Karla Souza como Laurel Castillo, Charlie Weber como Frank Delfino, Liza Weil como Bonnie Winterbottom, Conrad Ricamora como Oliver Hampton, Rome Flynn como Gabriel Maddox, Amirah Vann como Tegan Price y Timothy Hutton como Emmett Crawford.