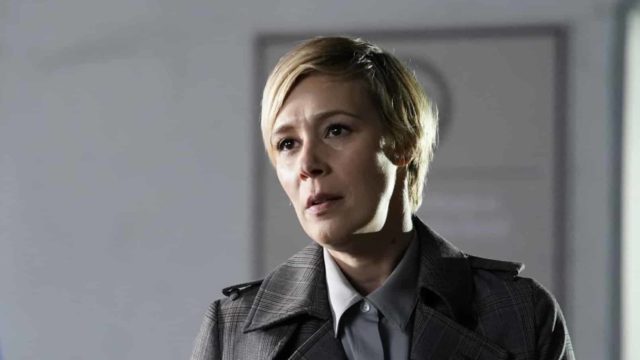 Promo, fotos y sinopsis de How to Get Away With Murder (HTGAWM) 6x08 "I Want to Be Free", que se estrena el jueves 14 de noviembre en ABC.
Sinopsis HTGAWM Temporada 6 Capítulo 8 «I Want to Be Free»
HTGAWM S06E08: Después de subir al estrado durante el juicio por el asesinato del padre de Nate, el mundo de Bonnie se pone patas arriba cuando un misterioso accidente la lleva a una realización difícil.

Mientras tanto, los estudiantes compiten por una gran bonificación en efectivo durante el examen final, donde deben encontrar la mejor defensa para un cargo de conspiración para asesinar.
Elenco: Viola Davis como la Profesora Annalise Keating, Billy Brown como el Detective Nate Lahey, Jack Falahee como Connor Walsh, Aja Naomi King como Michaela Pratt, Matt McGorry como Asher Millstone, Karla Souza como Laurel Castillo, Charlie Weber como Frank Delfino, Liza Weil como Bonnie Winterbottom, Conrad Ricamora como Oliver Hampton, Rome Flynn como Gabriel Maddox y Amirah Vann como Tegan Price.
Elenco invitado: Laura Innes como la Gobernadora Lynne Birkhead y Cas Anvar como Robert.
How to Get Away With Murder 6x08 Promo
Quedan solo 2 episodios de esta primera mitad de la temporada.

Luego de que Bonnie decidiera ayudar a Nate a hacer justicia por la muerte de su padre, al parecer la Gobernadora y los Castillo no dejarán que Bonnie se lo lleve muy fácil.

En la promo podemos ver a Annalise recibir una llamada de una angustiada Bonnie pidiendo ayuda.
Imágenes promocionales y BTS de HTGAWM Temporada 6 Episodio 8
HTGAWM 6x08 "I Want to Be Free", se estrena el jueves 14 de noviembre en ABC.