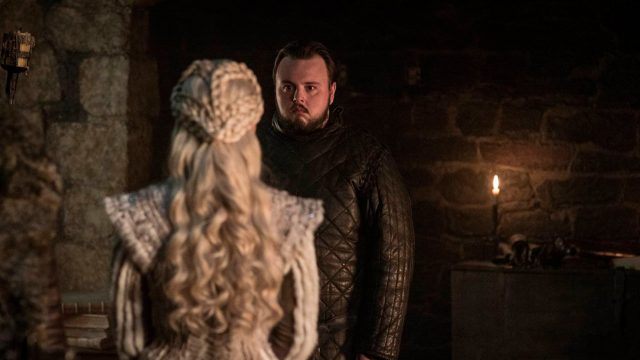 En este video 'Inside the episode' (Dentro del episodio), vemos a los creadores de la serie, David Benioff y D.B.Weiss analizando las principales escenas del primer episodio de la octava y última temporada de Game of Thrones.
Game of Thrones Temporada 8 Episodio 1 - Dentro del episodio (Subtitulos en español)
La llegada de Daenerys y Jon a Winterfell
David Benioff y D.B.Weiss se refieren a la escena que abrió el primer episodio de esta octava y última temporada, con Daenerys y Jon llegando a a Winterfell.
La escena del niño observando la llegada hace alusión al primer episodio de la serie, en el que Arya era una pequeña niña.
Ahora Arya es una mujer adulta y está mirando nuevamente, pero la da el paso al otro niño para que se acerque a mirar, ya que recuerda o emocionante que era.
Mientras que en el 1x01 los que llegan son el rey Robert Baratheon, junto a la reina Cersei, Jaime Lannister y el Perro, en el 8x01 son Jon y Daenerys.
Sansa se reencuentra con Tyrion
Después de mucho tiempo, Tyrion vuelve a ver a Sansa, pero esta vez él es la mano de la reina Daenerys.
Sansa se muestra sorprendida de que el hombre al que ella consideraba tan inteligente, le creyera a Cersei.
El reencuentro entre Jon Snow y Arya
La relación entre Arya y Jon era muy apegada. Arya siempre trató a Jon como un verdadero miembro de la familia.
Jon llega con un gran ejército a Winterfell, y pese a que Arya comprende por qué lo hizo, ella está del lado de Sansa.
Jon: ¿La estás defendiendo?
Arya: Defiendo a nuestra familia. Ella también.
Jon: Yo también soy su familia.
Arya: No lo olvides.
Aprendiendo a montar un dragón
Sólo los Targaryen pueden montar dragones (¿Night King es Targaryen entonces?)
Como Jon si lo es (aunque hasta ese momento él no lo sabía) es capaz de montar uno de los dragones de Daenerys, y ella se enamora aún más al ver que Jon es aceptado por los dragones.
Sam conoce a Daenerys
Sam y Daenerys nunca se habían conocido, pero están unidos por varios hilos. Lo más reciente es que Sam sanó a Jorah, y ahora Jorah se siente en deuda con él.
Sin embargo, lo que ninguno sabe hasta ahora es que Daanerys mató al padre y al hermano de Sam
Jon se entera de quiénes son sus verdaderos padres
Sam, tras contarle la triste noticia de que Daenerys mató a su hermano y padre, le revela a Jon que él si es un verdadero heredero al trono, ya que en realidad es hijo de Lyanna Stark y Rhaegar Rargaryen, y que su verdadero nombre es Aegon Targaryen.